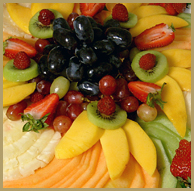 Catering Office Hours:
We are open everyday.
The office is staffed 7 days a week from from 8 a.m. to 5 p.m.
Rick & Ann's Restaurant also has a Breakfast and Lunch Menus

There is no dine-in service for dinner.
Welcome to Ann's Catering!
We are open! Ann's Catering has teamed up with Rick & Ann's Restaurant to offer you a variety of menus for your event needs. See below for links to our catering menu, curbside hot dinner menu, market menu and our weekly specials. Thank you for your continued support!
Thank you,
-Ann's Catering
Christmas Dinner Menu 2023
Let us take care of your Holiday dinner, appetizers,
side dishes and desserts!
---
Ann's Market is Now Open!
We have a wide selection of pantry items, including our house specialties that are frozen or refrigerated. We also have fresh produce, dairy, fresh bread and house-baked goods.
---
Ann's Catering Menu
Fall/Winter 2023-24
This menu started on October 1, 2023.
The new menu was added October 1, 2023. If you do not have the new menu, please click on the link above to download it now. The new menu has been organized and shortened for your convenience.
Please take a moment and read our new payment and cancellation policy written on the FAQ page.
We are located at: 2922 Domingo Avenue - Berkeley - CA - 94705