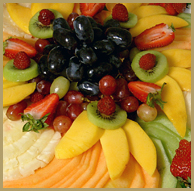 We are available to cater
your event 7 days a week.
Office Hours:
Monday - Saturday:
9:00 a.m. - 5:00 p.m.
Sundays:
Closed (Office Only)

Holiday Hours
We will be closed Thursday, November 27th & Friday, November 30th for Thanksgiving. We will resume our normal business hours on Saturday, November 29th.
All orders for Saturday, November 29th & Sunday, November 30th must be placed by Tuesday, November 25th.
We will be also closed from Thursday, December 25th to Tuesday, December 30th and on Thursday January 1st.
We will be open on Wednesday, December 31st until 3:00 pm for New Year's Eve orders. All orders for Tuesday, December 31st must be placed Monday, December 23rd.
Welcome to Ann's Catering!
We've updated the catering menu to the new
Fall 2014/Winter 2015 edition.
The new menu was added October 1, 2014. If you do not have the new menu, please click on the link above to download it now. The new menu has been organized and shortened for your convenience.
Please take a moment and read our new payment and cancellation policy written on the FAQ page.
Thank you,
-Ann's Catering
Allow Ann's Catering to take
the stress out of your holidays!
In addition to our regular catering menu, we will be offering a variety of ready to heat dishes.
Ann's Catering Thanksgiving Side Dishes
About Catering
The food. That's what Ann's Catering is all about. Platter upon platter, over 200 in all, of fresh dishes made to order for you. Look at the size of our menu! We are compelled by our love of food to offer as many choices as possible to our customers. Our customers say that it seems as if there's something new to try each time they see the menu.
Ann's Catering has been preparing great food for twelve years now. Our catering team has created an extensive menu of scrumptious fork and finger foods. We've continued to grow over the last few years, but our aim remains simple: to win you as a customer, and have you return to us again and again.
We are located at: 2922 Domingo Avenue - Berkeley - CA - 94705